MIL-DTL-38999 Series Overview
Section titled anchor_for_block_6308ecfb31d43
MIL-DTL-38999 Series Overview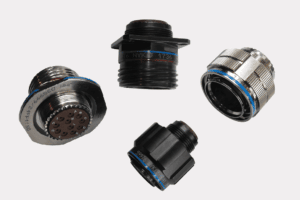 Section titled anchor_for_block_631080f8726f2
Selecting the best interconnect solution for a critical application can be difficult. In this article we take a look at the development of the MIL-DTL-38999 standard and highlight some of the different product attributes for Series I, II and III connectors.
History
The U.S. Department of Defense developed the original specifications for a military circular connector in the 1930's. This connector was known as Type 'AN' (Army-Navy), and these set the standard for modern military circular connectors. The AN5015 (now MIL-DTL-5015) connectors and their evolutionary derivatives are often called Military Standard, 'MIL-STD' or 'MIL-SPEC' connectors and are now widely used in aerospace, industrial, marine, automotive and commercial applications where high performance and reliability is required.
MIL-DTL-38999 Development
To meet the changing demands of applications in the 1970s where more signal and less power was the overriding requirement the MIL-DTL-38999 (D38999) standard was developed. Along with MIL-STD-1560 to define the interface and insert layouts this supported contacts down to size 22 enabling higher speed data transmission along smaller gauge wire.
MIL-DTL-38999 also brought the ability to handle higher vibration via more robust coupling mechanisms and mating threads with Series I and II having a traditional bayonet style coupling and Series III having a Tri-Start threaded coupling with an anti-vibration system in the coupling nut that allows rapid coupling and de-coupling and high vibration resistance.
D38999 Series I & III are termed 'Scoop Proof', a design feature whereby exposed contacts of the connector cannot be touched or damaged by any portion of the mating connector. Series II connectors, due to their low profile, space and weight saving construction are non-scoop proof, but are ideal in lower vibration, high moisture environments and where space is an issue. These features support a high-density contact arrangement (up to 128 contacts) with a smaller space envelope, improved EMI/RFI shielding effectiveness as well as greater fluid resistance and environmental sealing.
In the 1980s and 90s weight and durability became a high priority. The ability to offer lighter shell materials as alternatives to Aluminium and Stainless Steel became paramount and advances in materials made it possible to offer a lighter-weight Composite shell for MIL-DTL-38999 Series III connectors. These Composite shells are up to 40 percent lighter than Aluminium and have four times greater corrosion resistance, with durability that extends to 1,500 mating cycles. A Nickel Aluminium Bronze shell was also developed (CECC-75-201-002) specifically for high corrosion and marine environments (see NVS series).
Variants
MIL-DTL-38999 and their variants are now available with signal, Co-Ax, Tri-Ax, Quadrax, Fibre optic and high power (Zeus series) contacts in various shell styles, with the main body of the connector in Aluminium, Stainless Steel, Composite, Nickel Aluminium Bronze (Marine) material with various plating finishes, including RoHS compatible finishes.
D38999 Series III Assembly
Apollo Aerospace Components is approved as a fully franchised assembling distributor of Conesys MIL-DTL-38999 Series III connectors. In-house assembly enables Apollo to supply a huge range of approved connectors quickly and efficiently meeting each customer's specific requirement for MIL-DTL 38999 Series III, alongside the other quality products and services offered by the company.
For support with your next application contact the team today.