Section titled anchor_for_block_59e5cc7bd50eec2ab29c7f5fd6966218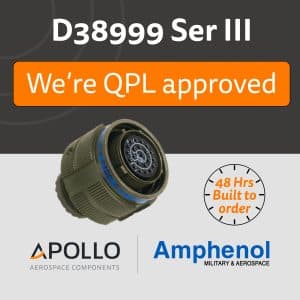 "WE'RE APPROVED"
QPL Certified Amphenol MIL-DTL-38999 Series III now built to order and available in 48hrs at Apollo Aerospace.
Apollo Aerospace is delighted to announce it has been awarded full QPL Approval certification for the assembly of Amphenol D38999 Series III at its Southampton manufacturing facility in the UK.
This milestone achievement in Apollo's growth sees Amphenol D38999 Ser III added to Apollo's portfolio of connectors are that STOCK TO BUILD and available in 48hrs from our UK Electrical Centre of Excellence
D38999 Series III Shell types and QPL- Approved plating styles IN STOCK and available include; Square Flange Receptacles, Jam Nut Receptacles and Plugs in Cadmium Olive Drab, Electroless Nickel and Black Zinc Nickel for ROHS compliance.
Apollo Aerospace can also support you with all your accessory needs including M39029 contacts, M81969 tools, MS27488 seal plugs and MS90376 caps from the vast stock in our UK facility.
At Apollo, we understand that time is of the essence when it comes to your operations and that service matters. That's why we ensure that your orders are processed, built to order to your requirements, and shipped in around 48hrs.
Our exemplary customer service built on a team of highly experienced trusted interconnect professionals are here to help.
Visit our new product page: https://www.apollo-aerospace.com/amphenol-d38999-series-iii/
Contact us today 01489 861378 or electrical@apollo-aerospace.com to learn more about the Amphenol D38999 Series III and our broad range of interconnect solutions.