New products, new facility
Section titled anchor_for_block_6308ecfb31d43
New products, new facility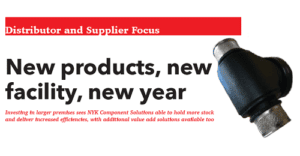 Section titled anchor_for_block_631080f8726f2
Growth in 2019 and investment in larger premises is the subject of an article in the January 2020 edition of Electronic Sourcing. NYK Component Solutions is now able to hold more stock and deliver increased efficiencies, with additional value add solutions available too. Read on below or visit Electronic Sourcing to view the full digital publication.
Investing in larger premises sees NYK Component Solutions able to hold more stock and deliver increased efficiencies, with additional value add solutions available too.
Interconnect Solutions provider, NYKCS grew rapidly in 2019 by continuing to provide great customer service and unbiased access to a huge range of connectors and accessories from leading manufacturers.
To meet these increasing demands and support the introduction of new product lines and services the company has moved to a larger facility in nearby Southampton. The new site has three times the floor space, allowing for greater stock holding, increased efficiencies and exciting new services.
Extended range of services
2020 is already shaping up well for NYKCS with new products, more approvals, and additional value add distribution services planned. All of this will extend the range of services that can be offered and ensure that NYKCS continues to provide the quality of service customers and partners have come to expect.
One of the highlights of last year was signing a new franchise agreement with EMCA Electro-Mechanic. This agreement covers the company's extensive range of VG qualified connector backshells, protection caps, dummy receptacles, conductive gaskets, O-rings and custom assemblies for connector types such as D38999, 26482, 83723, 5015, VG95328, VG95234, VG96912, JN1003, CECC75-201-002 and many more. All of these are available in a range of materials with various plating finishes including EMCA's own VG95319-1011 approved hybrid plating finish.
Online initiatives were another exciting development with the nykcs.com website adding a new interactive product configurator and a greater range of product information to help buyers find the best solution.
New custom design service
For customers with interconnect requirements that can't be met off the shelf, NYKCS introduced a new custom design service. NYKCS can provide 3D drawings and prototypes for a solution where the client retains intellectual property before proceeding to production of small or large quantities as required.
Chief executive officer, Kevin Wells, said: "2019 was a great year, but there's still opportunity for more positive change in the interconnect market. I look forward to creating better solutions for our clients underpinned by the great customer service we have become known for."
For more information about these products click here.