New Carlisle Interconnect Technologies Partnership Agreement
Section titled anchor_for_block_1baa78f5e377157e1eb63823586a3cf9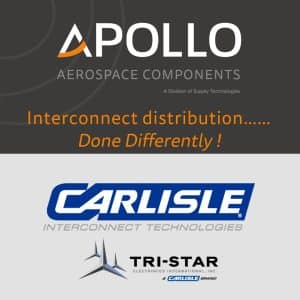 Apollo Aerospace Components is delighted to announce a partnership with Carlisle Interconnect Technologies (CarlisleIT) for the supply of M39029 contacts. CarlisleIT's supply of contacts will support the VAD assembly of both Amphenol and Conesys D38999 connectors at Apollo Electrical Component's centre of excellence in Southampton.
Carlisle Interconnect Technologies is a global market leader in the manufacturing of wire, cable, contacts, and connectors. Under its Tri-Star brand, CarlisleIT leads the market in quality and performance with its M39029, EN3155, and other contacts. In addition, CarlisleIT's M39029 are the only Mil-Spec approved contacts that Amphenol Ltd qualified in their JN1003 connector series.
Commenting on the agreement, Tony Houghton, Head of Product and Operations at Apollo, stated, "I'm delighted to reach this agreement and have CarlisleIT as our preferred supplier of contacts. As Apollo rapidly grows it's VAD Operation, this agreement signifies solidity and product assurance in our contact sourcing. This strategic improvement will ensure we offer the best possible service to both our VAD customers and all other customers needing accessory solutions".
At Apollo, we understand that time is critical when it comes to your operations. That's why we ensure that your orders are processed, built to your specifications, and shipped in around 48hrs. Our excellent customer service, composed of highly experienced and trusted interconnect professionals, are always here to assist you.
Contact us today on +44 (0) 489 861378 or electrical@apollo-aerospace.com to learn more about our broad range of interconnect solutions