Black Zinc Nickel MIL-DTL-38999 Series III
Section titled anchor_for_block_6308ecfb31d43
Black Zinc Nickel MIL-DTL-38999 Series III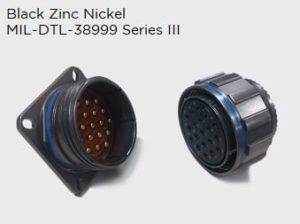 Section titled anchor_for_block_631080f8726f2
Black Zinc Nickel MIL-DTL-38999 Series III is in a class of its own when comparing harsh environment circular connectors. Due to the severe conditions that this connector family must survive, corrosion resistance, performance, functionality and aesthetics are critical, and most importantly, compliance to RoHS.
Quality approvals
For these reasons, NYK Component Solutions are fully approved to AS9100 Rev D, AS9120 Rev B and ISO9001 2015 to stock and build all Conesys MIL-DTL-38999 Series III connectors including Z class, Black Zinc Nickel.
NYKCS are the only Conesys Inc. European assembling distributor. Due to extensive piece part stocking and efficient build processes NYKCS can offer a fast turnaround of approved product, assembled to your requirements, in a real 24 hour leadtime. Contact us today for the best price and delivery on MIL-DTL-38999 Series III circular connectors​.
The fully qualified, Z class is an aluminum shell with RoHS compliant Black Zinc Nickel plating.  This plating is free of Cadmium, hexavalent Chromium, Lead, and any other substance deemed hazardous by the EU, and has now been adopted across the globe.
Z class meets or exceeds all the same qualification requirements as W class (aluminum shell with olive drab cadmium over nickel plating) as per MIL-DTL-38999, including corrosion resistance at 500-hour salt spray rating, durability at 500 mating cycles, EMI shielding effectiveness, and shell to shell conductivity at 2.5 millivolts maximum potential voltage drop, to name a few.
Performance Specifications
Operating Temperature Range, Class Z: -65°C to +175°C (-85°F to +347°F);
Corrosion Resistance: Military Class Z withstands 500-hour salt spray;
Durability: Minimum of 500 mating cycles;
Fluid Resistance: Connectors resist specified immersions in MIL-PRF-7808, MIL-PRF-23699, MIL-PRF-5606, M2-V Chevron oil, Coolanol 25, MIL-DTL-83133 (JP-8), MIL-DTL-5624 (JP-4, JP-5), SAE-AMS1424 Type I, and other solvents and cleaning agents;
Shielding Effectiveness: RFI and EMI attenuation at the specified frequencies meet the requirements of MIL-DTL-38999:

RFI shielding effectiveness of mated connectors with RFI backshells is measured in a triaxial radio frequency leakage fixture;
EMI shielding effectiveness is measured at the interface of mated connectors and tested by the mode-stirred technique specified in method 3008 of MIL-STD-1344.

Environmental Seal: Wired, mated connectors with specified accessories attached, shall meet the altitude-immersion test specified in MIL-DTL-38999;
Shell-to-Shell Conductivity: Maximum potential drop shall not exceed, Class Z = 2.5 millivolts;
Shock and Vibration Requirements: Wired, mated connectors shall not be damaged, nor shall there be a current interruption longer than one microsecond when subjected to the following:

Shock Pulse of approximate half sine wave of 300 G ± 15 percent magnitude with duration of 3 ± 1 milliseconds applied in three axes;
High Impact Shock When mounted as specified in MIL-S-901, grade A, a drop of a 400 lb. Hammer from 1 foot, 3 feet and 5 feet applied to connector in three axes, totaling nine impacts.

Vibration Wired and mated connectors withstand the following vibration levels:

Sine vibration where connector samples with simulated accessory load are subjected to simple harmonic motion from 10 to 2,000 Hz in three mutually perpendicular axes, in 20-minute sweeps, for 12 hours in each axis at velocity of 254 mm/sec from 10-50 Hz, displacement of 1.5 mm from 50-140Hz and acceleration of 60G from 140-2,000Hz;
Random Vibration per MIL-STD-1344, method 2005, test condition V at ambient temperature and test condition VI, Letter "J" at elevated temperature.