QPL Listed Assembly Facility – Increased Capacity
Section titled anchor_for_block_6308ecfb31d43
QPL Listed Assembly Facility – Increased Capacity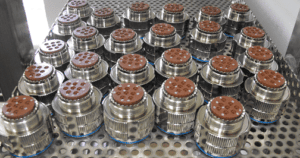 Section titled anchor_for_block_631080f8726f2
Apollo have increased the capacity of their MIL-DTL-38999 III & MIL-DTL-26482 II assembly facility, with investment in equipment, personnel, and piece part stock.
This enables quick turnaround of finished product from an extensive UK stock holding ensuring shortest delivery times, best price and no minimum order quantity of approved product from a QPL listed value add distributor.
Best price and delivery
For customers this means that price and delivery from Apollo Aerospace Components is probably the best available in the industry at this moment, compared to other major suppliers. Therefore, if a buyer has a requirement for quick supply of any quantity from a single piece upwards it makes sense to ask for a quote from Apollo.
Typically, a Circular Connector also requires a compatible backshell and this is another area where Apollo offers the best solution, with an extensive range of accessories also available in short timescale.
QPL listed
Apollo Aerospace Components is a global supplier of hardware and supply chain solutions to the Aerospace industry and is a QPL listed Value Add Assembling Distributor of MIL-DTL-38999 III and MIL-DTL-26482 II and a fully franchised distributor of electrical connectors, accessories and backshells for demanding Military, Aerospace and Industrial applications.
Apollo work with industry leading manufacturers to provide customers with flexible access to an extensive and unbiased selection of approved interconnect products. This includes circular connectors, circuit board connectors, connector accessories and backshells to meet the complete range of electro-mechanical demands across its chosen markets.
Apollo only uses products and components from OEM manufacturers, fully approved and QPL listed to ensure no counterfeit products entre the marketplace.
Contact the team today.