MIL-DTL-38999 Series III Assembly
Section titled anchor_for_block_6308ecfb31d43
MIL-DTL-38999 Series III Assembly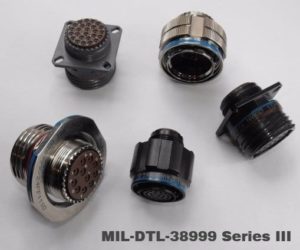 Section titled anchor_for_block_631080f8726f2
Assembly of MIL-DTL-38999 is, in some people's minds a black art, with difficult component supply and long lead times to the customer. To address these common challenges NYKCS have invested time and resource into a new quality system, industry approvals and a fully approved Value Add Distribution assembly area, enabling NYKCS to build approved product quickly to meet the buyers and engineer's exact requirements.
Here at NYKCS we stock and assemble Conesys Inc. MIL-DTL-38999 III with a real 24-hour turnaround.
Assembly of MIL-DTL-38999 Series III to AS9100 Rev D
Working with Conesys headquarters in the USA and Conesys Europe in Toulouse, France, NYK Component Solutions have set up an assembly facility and been fully approved to AS9100 Rev D and AS9120 Rev B, while also being approved to ISO9001 2015. In addition we have successfully gone through this transition and approval process with the BSI and become the only European value add assembling distributor of Conesys Inc. MIL-DTL-38999 Series III connectors.
NYKCS know of no other distributor in these markets in the UK that hold all of these approvals.
Fully Audited
All of this means that NYKCS have fully audited supply chain systems and processes, whether you are looking to buy finished components or you are looking for a proven fully qualified supplier partner. Either way you can take advantage of our extensive stocks of finished goods, our strong relationships with our supplier partners and our ability to assemble finished connectors quickly to the exact specification required from our extensive piece part component inventory.
If you need MIL-DTL-38999 Series III quickly at the best price please do not hesitate to contact us on 01489 861378 or sales@nykcs.com.