Hermetically Sealed MIL-DTL-38999 III Connectors 
Section titled anchor_for_block_6308ecfb31d43
Hermetically Sealed MIL-DTL-38999 III Connectors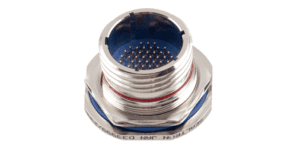 Section titled anchor_for_block_631080f8726f2
NYK Component Solutions can provide your solutions for Hermetic MIL-DTL-38999 III connectors as the exclusive European Franchise Distributor of AMETEK Interconnect Technologies.
NYKCS provides OEM pricing and 100% on-time scheduling to meet all your requirements for hermetically sealed connectors.  Stocking a range of MIL-DTL-38999 Series III hermetic connectors in "Y" and "N" class in a variety of styles including D38999/21, D38999/23, D38999/25 and D38999/27. These hermetic receptacles provide excellent service in severe environments including high temperature, humidity, vibration, shock and where EMI/RFI shielding is required. The triple lead thread offers quick disconnect (360º) with a non-decoupling feature designed into the plug. The scoop proof design prevents accidental bending of the contacts and provides for the grounding of the plug and receptacle prior to the engagement of the pin and socket contacts.
NYK Component Solutions are fully approved to AS9100 Rev D, AS9120 Rev B, ISO9001 2015 and QPL listed as a VAD assembling distributor for Conesys MIL-DTL-38999 III as well as being fully approved by AMETEK Interconnect Technologies to supply: MIL-DTL-38999, MIL-DTL-83723 Series III, MIL-DTL-26482 Series I and II, MIL-DTL26500, EN299Y + YE and ESC10YE.
For more information contact the team today.