Electro-Optic Copper to Fiber Converter
Section titled anchor_for_block_6308ecfb31d43
Electro-Optic Copper to Fiber Converter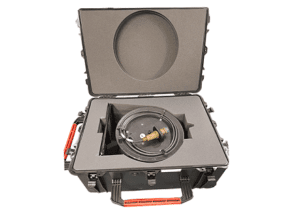 Section titled anchor_for_block_631080f8726f2
Electro-Optic copper to fiber converters based on D38999 III connectors are now available from NYK Component Solutions. The OPSYS-Tech ACON range from RF Immunity provides a secure data link between ground stations by converting copper signals to Fiber Optic.
Military customers have chosen the ACON as the solution to achieve an Ethernet bi-directional link (1Gb/s) over fiber between ground stations. This solution helps to improve a system's flexibility and enables the user to change location very quickly. The ACON allows the customer to securely transfer data via optical media between the 2 stations at a distance of up to 120 Meters. This particular ACON system contains one 10/100/1000 Base-T Ethernet link and in parallel 4 copper wires for transferring power to the end station.
The hybrid cable consists of two 20 AWG twisted pairs, two 16 AWG twisted pair and two MM OM-3 FO mini-cables, fillers, aramid yarns and overall jacket.
Characteristics of the system include, Ethernet 10/100/1000 Base-T optic link, MIL-DTL 38999 standard interface, Environmentally sealed IP67 when mated and EMI/RFI filtering for the Ethernet and the Power lines.
By choosing the ACON solution the customer does not need to change the existing output connectors of their current system as the ACON is based on D38999 III Plug connectors, so will mate with the customer's D38999 III receptacles.
By using ACON with a copper interface the customer reduces maintenance dramatically since there is no need to clean the Fiber Optic connector interface. The ACON connector set with the 120 Meter cable can be supplied on a reel and packed inside a ruggedized trolley case for safe use in the field.
For more information contact the team at NYKCS today.