Do you need connectors, contacts, backshells or other accessories?
Section titled anchor_for_block_aecfa70c9dbe8aad83468946111896d7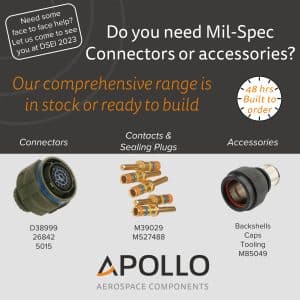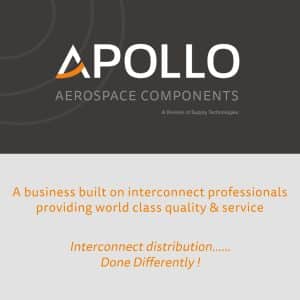 Do need Mil-Spec Connectors, Contacts, Backshells, Caps or other accessories?
Apollo can support all your connector, contacts and accessories needs from #Connectors: #D38999 26482 #83723 #5015, #Contacts: #M39029, #Seal plugs: #MS27488, #Accessories: #Backshells: #M84059, #Caps: #MS90376 to #Tools #M81969 and much more from the vast stock in our UK facility.
At Apollo, we understand that time is critical when it comes to your operations. That's why we ensure that your orders are processed, built to your specifications, and shipped in around 48hrs. Our excellent customer service, composed of highly experienced and trusted interconnect professionals, are always here to assist you.
Do you need some face to face help? Let us come to see you at DSEI 2023 next week.
Contact us today on +44 (0)1489 861378 or electrical@apollo-aerospace.com to learn more about the broad range of interconnect solutions.
Click here for more info: https://www.apollo-aerospace.com/electrical-connectors/
Interconnect Distribution…… Done Differentl