Black Zinc Nickel plating
Section titled anchor_for_block_0278fdf13ff34be9d89c111855c14b74
Black Zinc Nickel plating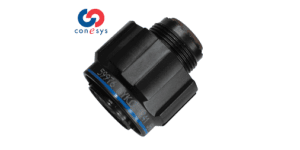 Section titled anchor_for_block_ff5f4bccd2c658e81d922e8dea859c14
MIL-DTL-38999 Series III finished with Black Zinc Nickel plating has some real advantages over other circular connectors designed for harsh environments. This connector family is designed to survive extreme conditions where corrosion resistance, electrical performance, mechanical functionality, and aesthetics are critical. This finish not only achieves those criteria but also provides compliance with the latest EU RoHS directive.
Fast Turnaround
Due to extensive piece part stocking and efficient build processes NYKCS can offer a fast turnaround of this approved product, assembled to your requirements. Contact us today for the best price and delivery on MIL-DTL-38999 Series III circular connectors​ in Black Zinc Nickel, Cadmium Olive Drab or Electroless Nickel to meet your specific project needs.
Black Zinc Nickel Plating
The fully qualified, 'Z class' is an aluminium shell with RoHS compliant Black Zinc Nickel plating.  This plating is free of Cadmium, hexavalent Chromium, Lead, and any other substances identified as hazardous by the EU, and it has now been adopted as a standard across the globe. Z class meets or exceeds all the same qualification requirements as W class (aluminium shell with olive drab cadmium over nickel plating) as per MIL-DTL-38999. This includes corrosion resistance at 500-hour salt spray rating, durability at 500 mating cycles, EMI shielding effectiveness, and shell to shell conductivity at 2.5 millivolts maximum potential voltage drop, to name a few.