Band together for savings – Electronic Sourcing UK, Feb 2019
Section titled anchor_for_block_6308ecfb31d43
Band together for savings – Electronic Sourcing UK, Feb 2019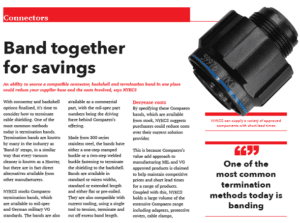 Section titled anchor_for_block_631080f8726f2
Termination bands are the subject of an article in the February 2019 edition of Electronic Sourcing UK magazine. Read on below or visit Electronics Sourcing to view the full digital publication.
#An ability to source a compatible connector, backshell and termination band in one place could reduce your supplier base and the costs involved, says NYKCS.
With connector and backshell options finalised, it's time to consider how to terminate cable shielding. One of the most common methods today is termination bands. Termination bands are known by many in the industry as 'Band-It' straps, in a similar way that every vacuum cleaner is known as a Hoover, but there are in fact direct alternatives available from other manufacturers.
NYKCS stocks Compaero termination bands, which are available to mil-spec and German military VG
standards. The bands are also available as a commercial part, with the mil-spec part numbers being the driving force behind Compaero's offering.
Made from 300 series stainless steel, the bands have either a one-step stamped buckle or a two-step welded buckle fastening to terminate the shielding to the backshell. Bands are available in standard or micro widths, standard or extended length and either flat or pre-coiled. They are also compatible with current tooling, using a single tool to tension, terminate and cut off excess band length.
By specifying these Compaero bands, which are available from stock, NYKCS suggests purchasers could reduce costs over their current solution provider.
This is because Compaero's value add approach to manufacturing MIL and VG approved products is claimed to help maintain competitive prices and short lead times for a range of products.
Coupled with this, NYKCS holds a large volume of the extensive Compaero range including adapters, protective covers, cable clamps, termination bands and other connector accessories, from simple strain reliefs to submersible EMI/RFI shielded backshells for use in harsh environments.
According to NYKCS, this ability to provide the connector, backshell and termination band from a
single source can also help reduce a purchaser's supplier base and the costs involved.
To support this offering, NYK Component Solutions is fully approved to AS9100 Rev D, which covers the value-added assembly of aerospace and commercial connectors in accordance with OEM  documentation, techniques and piece parts. It can also assemble MIL-DTL-38999 III components for Conesys and is approved to AS9120 Rev B, which covers sales, logistics and distribution of electromechanical interconnect components for the aerospace, military, oil and gas markets.
Furthermore, NYKCS is approved to ISO9001 2015, having successfully gone through this transition with the BSI.
All this enables NYKCS to supply a variety of approved components with short lead times, efficiently meeting customer specific needs for connectors, backshells and connector accessories by supplying approved products such as MIL-DTL-38999 Series III, MIL-DTL-26482, MIL-DTL-83723, EN2997, ESC10, MIL-DTL-5015 and hyperboloid contacts and connectors.