Backshells with hybrid plating
Section titled anchor_for_block_6308ecfb31d43
Backshells with hybrid plating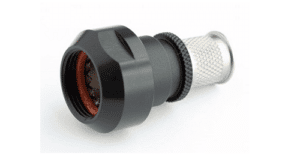 Section titled anchor_for_block_631080f8726f2
NYK Component Solutions is now providing the EMCA range of rugged Double USB connectors to complement their extensive ranges of high-quality interconnect products from trusted OEM partners.
The Double USB receptacle uses the mechanical interface and panel cut out of a MIL-DTL-38999 Series lll circular connector and is housed in a size 15 jam nut shell, complete with a protection cap and lanyard. Various configurations are available, with or without flying leads for USB 3.0 or USB 2.0 and cable lengths up to 4 meters. The connector is suitable for power or signal transmission dependent on the USB standard used. The aluminium alloy shell is available in 3 plating finishes Black Zinc Nickel, Electroless Nickel and Hard Anodized Black.
Rugged Solution
There are many possible applications for this innovative product providing environmental protection to an otherwise vulnerable interface. Applications are likely to be in Military, Security, Broadcast and Avionics or anywhere a rugged solution is needed. The Universal Serial Bus is an industry standard enabling interconnection of a huge range of devices for both low power (5V) and high-speed data transfer (up to 5Gbit/s). The flexibility and broad adoption of the USB 2.0 and 3.0 standards makes the interface attractive for a wide range of applications and this connector facilitates its use even in environments where an unprotected standard receptacle would not survive.
Complete Interconnect Solutions
NYK Component Solutions is fully approved to AS9100 Rev D, AS9120 Rev B and ISO9001 2015 and is QPL listed as a fully approved Assembling Distributor for Conesys MIL-DTL-38999 III and MIL-DTL-26482 II. These connector ranges are accompanied by a full range of high quality backshells, protection caps and other products from EMCA electro-mechanic GmbH, providing  complete interconnect solutions.
For more information visit the product page here, or contact the team today.