Amphenol TV series connectors VAD
Section titled anchor_for_block_406a68312d9c1dbe2ae769b4f7c69252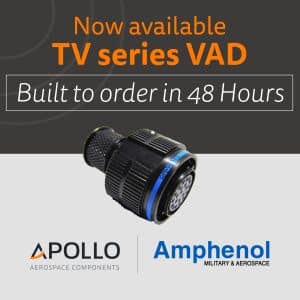 Amphenol TV Series III 38999 connectors are now stock to build and available in 48hrs from our UK Electrical Centre of Excellence
The TV series is a Tri-Start Series III 38999 proprietary connector offering the highest performance capabilities. Designed to withstand the most demanding of environments including vibration and temperature. The TV series is available in a wide range of plating styles and a vast array of insert arrangements.
The TV series is designed to be scoop-proof and fully intermountable and intermatable with all other manufacturer's MIL-DTL-38999 Series III connectors
At Apollo, we understand that time is of the essence when it comes to your operations. That's why we ensure that your orders are processed, built to your requirements, and shipped in around 48hrs.
Our exemplary customer service built on a team of highly experienced trusted interconnect professionals are here to help.
Visit our new product page: https://www.apollo-aerospace.com/amphenol-tv-series-connectors/
Contact us today 01489 861378 or electrical@apollo-aerospace.com to learn more about the Amphenol TV series and our broad range of interconnect solutions.