Amphenol 62GB Connectors Now In Stock
Section titled anchor_for_block_14892627e6ecbc771a2dfb238d52eb49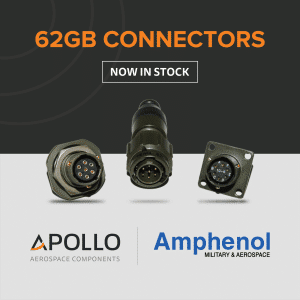 Apollo Aerospace Components are continuing to expand our stocking portfolio.
As part of our new franchise relationship with Amphenol Ltd we are delighted to advise we now have Amphenol 62GB connectors in stock and ready to ship.
The Amphenol 62GB series is a rugged and versatile line of connectors that's designed to withstand even the most demanding environments. With a variety of shell sizes and contact arrangements available, you're sure to find the perfect solution for your needs.
Contact us on 01489 861378 or electrical@apollo-aerospace.com