Simple tips for complex connector sourcing – ESUK Mar 19
Section titled anchor_for_block_6308ecfb31d43
Simple tips for complex connector sourcing – ESUK Mar 19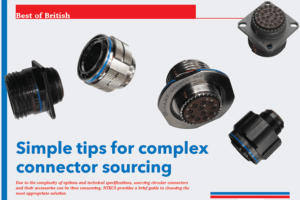 Section titled anchor_for_block_631080f8726f2
The article 'Simple for tips for complex connector sourcing' published in the March 2019 edition of Electronic Sourcing UK explains how NYK Component Solutions can help identify and source the best products for your application.
Due to the complexity of options and technical specifications, sourcing circular connectors and their accessories can be time-consuming. NYKCS provides a brief guide to choosing the most appropriate solution.
High-performance electrical plugs and sockets with a circular housing and multiple contacts are used to interconnect systems in a range of electro-mechanical scenarios. In the defence and aerospace industries, some of the most commonly used products are MIL-DTL-26482, 5015 and 38999 connectors. An understanding of these specifications will underpin the selection process.
Specifications explained
Any MIL-DTL connector will have been designed and manufactured to meet a detailed and complex military specification.   Connectors with this designation have high-performance levels and will be subject to rigorous quality controls throughout the manufacturing and supply chain.
MIL-DTL-38999 connectors consist of four series, with either bayonet,  threaded or Breech Lok coupling mechanisms. These environmentally resistant connectors feature removable crimp contacts and have an operating range of -65 to 200°C.
Specifically, MIL-DTL-38999 Series I connectors are bayonet coupled, scoop proof and have high-vibration properties. Series II is also bayonet coupling, but due to their low profile, lightweight construction, they are non- scoop proof. They are ideal in low-vibration and moisture environments. Series III connectors use a Tri Start threaded coupling for fast coupling and de-coupling. They are scoop proof and can be used in high temperature, moisture or vibration environments. Finally, Series IV quick disconnect connectors feature a Breech Lok mechanism. These scoop proof, lightweight connectors are designed for blind mating applications and have high-vibration and moisture performance.
The MIL-DTL-26482 specification covers a range of miniature circular bayonet lock connectors. Series I features non-removable solder contacts and series II uses removable crimp contacts. Both are quick disconnect, environmentally resistant, electrical connectors with an operating range of -55 to 125°C.
MIL-DTL-5015 can be described as the first military circular connectors standard. Connectors can have front release or rear release crimp contacts and can also be supplied with solder contacts. Used for electrical power, electronic, and control circuits, this range is widely used in industrial, civil, and defence applications as it is readily available and versatile, with an operating range of -55 to 125, 175, or 200°C.
Products such as MIL-DTL-83723 and their derivatives the EN2997 and ESC10 variants are also widely used, often selected for their high levels of vibration performance and EMI shielding.
Application constraints
Selecting the right connector for an application will clearly depend on electrical, mechanical and
environmental requirements. Features for consideration include: physical size, weight, shape, voltage and current ratings, as well as EMI/RFI and environmental performance, such as vibration and expected mating frequency. These parameters will help to define the best connector family for the application.
In most cases, the plug connector will be fitted to a cable and connect to a mating receptacle. The plug can be fitted with pins or socket contacts, depending on the flow of current. Receptacles to mate with the plug are available in various shell styles, with a variety of mounting options. These include flange mounting, wall mount, panel mount or box mount, which fit on the front or rear of a panel or box and are normally four-hole mount. Solder mount or weld mount receptacles are also available as hermetic connectors that offer sealing in extreme pressure and temperature environments.
Having selected the most suitable connector, it is also critical to identify appropriate accessories to ensure the end-to-end performance of the complete assembly. A plug, for example, requires a connector backshell or cable clamp to secure the terminated cable and achieve the required level of EMI/ RFI performance, sealing and mechanical protection.
Supplier selection
Critical systems require products to operate in harsh conditions. Mil-spec products are therefore specified for their technical capabilities, performance and quality. Conversely, if such high levels are not required, then a mil-spec component may not be the best choice.
Connector specialist, NYK Component Solutions, aims to help engineers and buyers identify the best product for their application, be it mil-spec or a commercial equivalent. The company boasts years of experience in the specification of connectors and interconnect products as well as being an approved value add assembling distributor for Conesys MIL-DTL-38999 Series III connectors. As a franchised distributor of Compaero products, NYKCS can also provide a variety of connector backshells and accessories. Backed by approval to AS9100 Rev D for value-added assembly and AS9120 Rev B for sales, logistics and distribution, this helps ISO9001 2015 approved NYKCS offer valuable advice to simplify the daunting task of circular connector selection.
To discuss your application needs please contact the team today.