MIL-DTL-26482 Series II – Complete interconnect solutions
Section titled anchor_for_block_6308ecfb31d43
MIL-DTL-26482 Series II – Complete interconnect solutions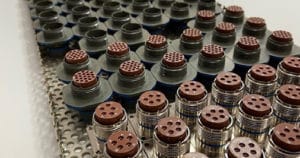 Section titled anchor_for_block_631080f8726f2
QPL listed provider
Apollo Aerospace Components, the "Trusted Interconnect Solutions" provider assembles and distributes high quality approved and certified Circular Connectors and accessories.
The company offers a Value-Add Distribution (VAD) product portfolio which includes MIL-DTL-26482 Series II and MIL-DTL-38999 series III connectors from Conesys.
Apollo is fully QPL listed and is approved to AS9100 Rev D, AS9120 Rev B and ISO9001 2015.  The 26482 Series II (MS34***) product lines are assembled at the company's facility in Southampton, UK.
Extensively used in Ground-based vehicles, Communication systems, Naval, Military and Commercial equipment, the MIL-DTL-26482 II connector is suitable for many demanding applications.
They are often selected for their small size and high-quality contact retention and seal. Fully intermatable with other 26482 series they have crimp rear release contacts and are offered in 4 receptacle-mounting styles with up to 61 contacts and 5 polarisation options. Styles include narrow flange wall mounting receptacles, wide flange wall mounting receptacles, cable connecting receptacles and jam nut mounting receptacles which incorporate "O" ring seals, designed for rear panel "D" hole mounting.
By assembling these connectors in-house Apollo has the flexibility to supply a huge range of approved product quickly and efficiently meeting each customer's specific requirement, alongside the other quality products and services offered by the company.
MIL-DTL-26482 backshells
To complement these connectors, Apollo is also fully franchised to assemble and distribute EMCA Electro-mechanic's extensive range of connector backshells, protection caps, dummy receptacles, conductive gaskets, O-rings and custom assemblies. EMCA are a VG qualified company and manufacture high performance connector backshells and accessories for a wide range of connector types.
Backshells for MIL-DTL-26482 Series II connectors are available in a range of styles including the high performance shrink boot adaptor which provides environmental protection and strain relief to cable termination with the added benefit of repairability. MIL-DTL-26482 backshells are available in materials such as Aluminium, Marine Nickel Aluminium Bronze and Stainless Steel. There are also a range of plating finishes including Electroless Nickel, Cadmium Olive Drab, Zinc Nickel Passivation and EMCA's unique VG 95319-1011 approved high-performance Hybrid plating finish that is ROHS and REACH compliant and is fully compatible with other plating finishes. This innovative solution means that the customer need purchase only one backshell for all connector plating's with the black colour matching the shrink boot and cable.
Advantages
For the customer, the advantages of buying connectors together with their compatible accessories is clear. Apollo can package connector and backshell as a single kit item.
Kitting helps to reduce the quantity of items that the customer must store, increases their repeat order efficiency, and reduces the likelihood of assembly delays due to incompatible component parts.
Where customers have OEM part numbers, Apollo can cross reference to the corresponding MIL Spec prefix beginning MS34. This means that customers can benefit from the flexibility and fast turnaround that Apollo is able to offer, even when the specified component has an OEM prefix.
Apollo Aerospace Components is committed to delivering trusted interconnect solutions achieved through a fully audited supply chain and underpinned by high quality processes and systems.
This means that whether customers are buying finished components or seeking a proven fully qualified supplier partner, Apollo is the right choice.  Customers can take advantage of flexible in-house assembly, extensive stocks of finished goods and strong relationships with OEM partners.
Product can be supplied quickly to the exact specification required enabled by an extensive piece part component inventory. Apollo ensures all products and components are from OEM manufacturers and are fully approved to alleviate any possibility of counterfeit products entering the marketplace.