When the going gets tough – Electronic Sourcing UK, Sept 2018
Section titled anchor_for_block_6308ecfb31d43
When the going gets tough – Electronic Sourcing UK, Sept 2018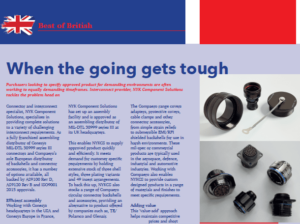 Section titled anchor_for_block_631080f8726f2
Best of British
The 'Best of British' article in the September 2018 edition of Electronics Sourcing UK magazine describes NYK Component Solutions value add capability for d38999 and explains how the business is organised to supply approved interconnect product in short timeframe.
Purchasers looking to specify approved product for demanding environments are often working to equally demanding timeframes. Interconnect provider, NYK Component Solutions tackles the problem head on.
Connector and interconnect specialist, NYK Component Solutions, specialises in providing complete solutions to a variety of challenging interconnect requirements. As a fully franchised assembling distributor of Conesys MIL-DTL 38999 series III connectors and Compaero's sole European distributor of backshells and connector accessories, it has a number of options available, all backed by AS9100 Rev D, AS9120 Rev B and ISO9001 2015 approvals.
Efficient assembly
Working with Conesys headquarters in the USA and Conesys Europe in France, NYK Component Solutions has set up an assembly facility and is approved as an assembling distributor of MIL-DTL 38999 series III at its UK headquarters.
This enables NYKCS to supply approved product quickly and efficiently. It meets demand for customer specific requirements by holding extensive stock of three shell styles, three plating variants and 49 insert arrangements. To back this up, NYKCS also stocks a range of Compaero circular connector backshells and accessories, providing an alternative to product offered by companies such as, TE/ Polamco and Glenair.
Read on here or visit Electronics Sourcing to view the full digital publication.