Life of a connector order – Electronic Sourcing UK, February 2018
Section titled anchor_for_block_6308ecfb31d43
Life of a connector order – Electronic Sourcing UK, February 2018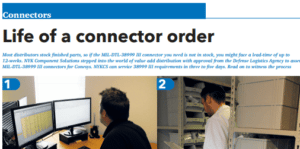 Section titled anchor_for_block_631080f8726f2
Value add distribution
NYK Component Solutions is featured in the February 2018 edition of Electronic Sourcing UK magazine. In the article 'Life of a connector order' our process to assemble MIL-DTL-38999 Series III is explained.
3 to 5 days from order
Most distributors stock finished parts, so if the MIL-DTL-38999 III connector you need is not in stock, you might face a lead-time of up to 12-weeks. NYK Component Solutions stepped into the world of value add distribution with approval from the Defense Logistics Agency to assemble MIL-DTL-38999 III connectors for Conesys. NYKCS can service 38999 III requirements in three to five days.
Read on to witness the process here or visit Electronic Sourcing to view the full digital publication.