Making Opportunities Count – Electronic Sourcing UK, December 2017
Section titled anchor_for_block_6308ecfb31d43
Making Opportunities Count – Electronic Sourcing UK, December 2017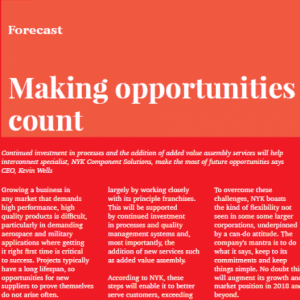 Section titled anchor_for_block_631080f8726f2
Quality processes
Continued investment in processes, the addition of added value assembly services (such as our MIL-DTL-38999 series III capability) and working closely with our principle franchises are all highlighted in this article in the December edition of Electronic Sourcing magazine. These are key ingredients that will ensure we continue to provide industry-leading customer service. For NYKCS this means a reliable supply of our range of approved circular connectors and accessories as well as excellent technical support and online resources to help customers source the best solution for their application.
Online resources
To help navigate the complex landscape of interconnect products and suppliers we are constantly developing online tools and information resources such as our Polamco to Compaero Cross Reference look-up and our new MIL-DTL-38999 series III Part Builder, an interactive tool to assist engineers and buyers in finding the best connector configuration for their project.
Electronic Sourcing Article
You can read the article here or visit Electronic Sourcing to view the full digital publication.