Going around in circles – Electronic Sourcing UK, Aug 2018
Section titled anchor_for_block_6308ecfb31d43
Going around in circles – Electronic Sourcing UK, Aug 2018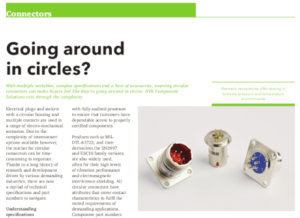 Section titled anchor_for_block_631080f8726f2
NYK Component Solutions cuts through the complexity
In the article 'Going around in circles?' featured in the August 2018 edition of Electronics Sourcing UK magazine NYKCS explains how to navigate the complex world of Circular Connectors.
Electrical plugs and sockets with a circular housing and multiple contacts are used in a range of electro-mechanical scenarios. Due to the complexity of interconnect options available however, the market for circular connectors can be time consuming to negotiate. Thanks to a long history of research and development driven by various demanding industries, there are now a myriad of technical specifications and part numbers to navigate.
Understanding specifications
In the defence and aerospace industries, MIL-DTL-26482, 5015 and 38999 connectors are some of the most commonly used connector types, whereby connectors are both designed and manufactured to meet a detailed military specification…..
Read on here or visit Electronics Sourcing to view the full digital publication.